The Gaslight Anthem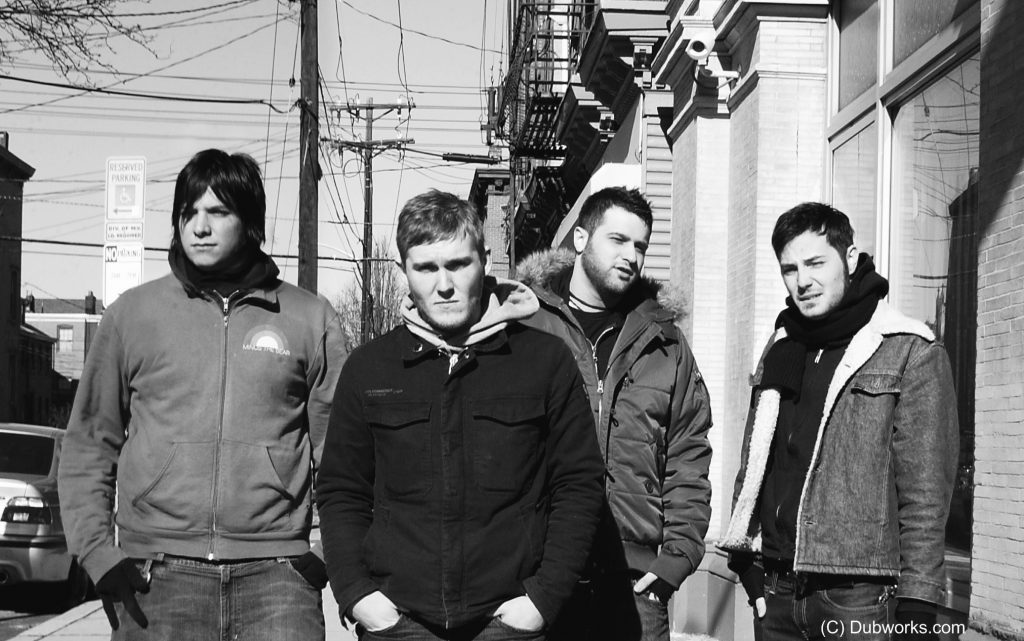 Vocals / Guitar: Brian Fallon
Guitar / Back Vocals: Alex Rosamilia
Bass: Alex Levine
Drums: Benny Horowitz
Everybody heard about The Gaslight Anthem these days with their record the '59 sound they got famous. But how did they start? That's what the next lines should be about….
In the brief span of two years New Brunswick, New Jersey's The Gaslight Anthem have acomplished more than most bands will in a career's worth of existence. Despite the fact that they only had one full-length to their name (2007's Sink Or Swim), the band have written songs that are dripping with so much authenticity it seems they would take decades of hard living to craft; they played over 200 shows in 2007 alone with some of the biggest names in the punk scene such as Against Me!, The Loved Ones, and The Draft; and
without any gimmicks or make-up, they've built a buzz in the rock scene that's growing more deafening with each passing week.
The band-which is made up of vocalist/guitarist Brian Fallon, bassist Alex Levine, drummer Benny Horowitz, and guitarist Alex Rosamilia-are currently hard at work on their sophomore full-length, but to tide fans over they're excited to announce the release of the four-song EP, Senor And The Queen. Recorded during a rare few days off in Austin, Texas, last year, the EP shows the progression the band have made in the last year from literally every waking moment on the road. "We were so fresh from playing the songs on tour, so recording wa the easiest thing ever," Fallon explains, adding the band utilized a Vox AC30 amp that was once used by Minor Threat's Lyle Preslar on these sessions.
The result is a collection of songs that are remarkably varied, with the only unifying characteristic being their timelessness and authenticity. The opener "Senor And The Queen" is an anthemic punk track that's reminicent of gritty acts like Leatherface and Hot Water Music; "Wherefore Art Thou, Elvis?" shows the band turning down the distortion and bearing their souls on two-inch tape in a way that would make their hometown hero Bruce Springsteen proud; "Say I Won't (Recognize)" is an upbeat rocker that could even get the most cynical critic out of his barstool and onto the dance floor; and "Blue Jeans And White T-Shirts" is a soulful coutry-tinged ballad that's so familiar sounding it's difficult to believe it's not a cover.
"We toured so much last year that when we came home this summer for three weeks to hang out on the Jersey Shore it was really inspiring," Fallon answers when asked about how the band's hometown informed these songs. "I didn't know if I was ready to undertake a concept record, but we were like, 'we have an EP to do, so let's do an EP about home." While there's no clear-cut narrative on the disc, the lyrics read like short stories that focus on places, people, and feelings in a way that you can only truly appreciate when you're spending most of your year inside dirty rock clubs. "What I really love about these songs is that when we play these songs on the road whether it's in Europe or anywhere, it reminds us of home."
Above all, there's also a timeless quality to the songs on Senor And The Queen, which Fallon explains is due to the fact that the band listen to such a diverse base of music. "We're extremely influenced by older music and that's what we want to come through," he says, adding that Springsteen is only one of the band's many musical inspirations and citing Wilson Pickett, Otis Redding, and other Motown classics as van favorites. "We're not trying to reinvent the wheel here, we're just doing what we love and hopefully people will be able to sense that," Fallon summarizes. "If we can inroduce the type of music to a kid who's seventeen and never would be otherwise exposed to it, that's amazing.