Axis Of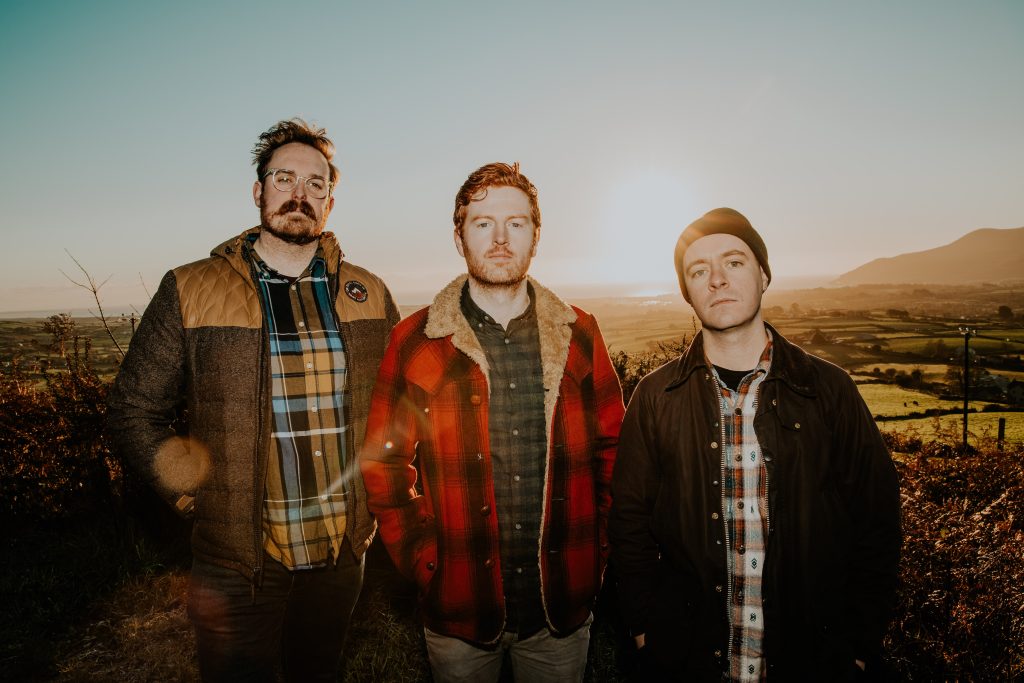 Bella Pacifica is an album of recovery and hope; being able to lift your head to look towards a new day.
Axis Of is Niall Lawlor (guitar, vocals), Ewen Friers (bass, vocals) and Ethan Harman (drums); friends raised on Ireland's north coast, between the tourist towns of Portstewart, Portrush and Portballintrae.
They grew up with the Atlantic Ocean in front of them, a remarkable coastline with all its beauty and power a constant. Scenes which influence their music still. But it was travel and exploration that informed this album most. The references to Scottish islands and Irish seas which often formed the back-bone of the band's first two albums have not been replaced, but have been joined by Australian plains and Canadian skies. Bella Pacifica is an album that looks outward, a celebration of existence. It is personal, the songs are about "us" says Niall.
After the band's second album they took time away from their primary musical project, but an innocuous fall while in Canada led to a lengthy period of serious ill-health for Niall. A reliance on medication – to counter symptoms which hadn't yet been fully explained or understood – forced Niall to withdraw further from work, friends, music and life. Niall describes how that time in his life often "felt endless", but slowly – with better diagnosis and help from family and friends – things improved. Ewen states how "Music can be helpful and healing. I remember going to see Niall and his illness was finally plateauing. At some stage I remember
thinking 'he's getting a bit better'".
Before his return to Ireland, Niall had sent Ewen some demos recorded in a snow-covered cabin in Canada. These would be the foundation from which Bella Pacifica grew. Ewen remembers seeing Niall's gradual improvement and it giving him extra drive to finish those songs off. He added lyrics when he could "to give something, any kind of distraction, to Niall".
Eventually Niall and Ewen found themselves in studio on a remote Scottish island tracking a record for which the writing process spanned many of the most exciting and joyful times, through to some of the bleakest and most hopeless. It is a journey reflected in the triumphant music and often heartbreakingly personal lyrics. Niall explains how much of the new album is about endurance "it has sad songs…but it is hopeful that there can be good times again".
The band have refocused, consciously removing much of the stress that comes along with making and releasing music. The goals have changed. "The album was created not knowing if anyone would ever hear it" says Ewen, and when Niall talks about the measures of success for the album he says there are none "The success is existing in the first place". Isn't it just.
Notes to Editor:
Bella Pacifica is Axis Of's third album, following on from Finding St.Kilda and The Mid Brae Inn – which were released on the much missed Smalltown America Label.
The album will be released in Ireland, the UK and Europe via No Dancing Records, in Germany and Europe via Gunner Records and in the USA via Say-10 records.
Ewen also plays bass in And So I Watch You From Afar and is the lead member of Catalan!
Axis Of are currently based in Belfast, N.Ireland
https://youtu.be/bKcmt–9a2E