Divided Heaven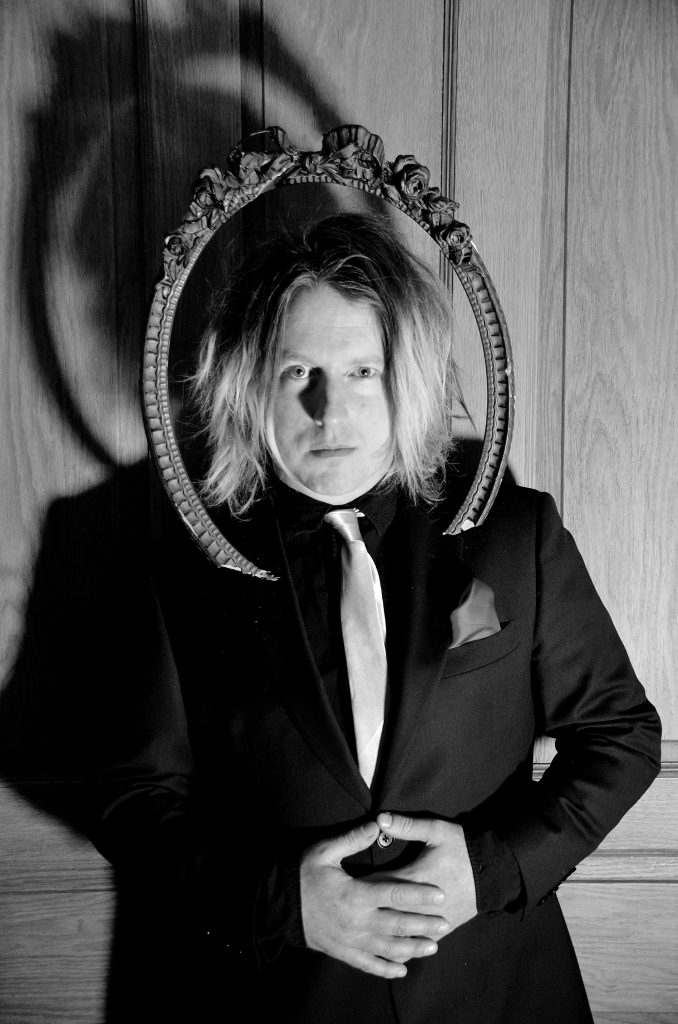 Jeff Berman has not made it easy on himself. For the past 12 years the DIVIDED HEAVEN frontman has tried relentlessly to buck the typical singer-songwriter mold with his unique writing style and career path. The new DIVIDED HEAVEN album, Oblivion, out February 4th on A-F Records (US) and Gunner Records (EU), blazes that ambition forward with a bang, a dash of weird, a pinch of Satanism, and a heavy dose of sex and politics resulting in a unapologetic and provacative DIVIDED HEAVEN album like none before.
"I had to write a record that matched the times: delicate to chaotic, heartfelt to dirty," says Berman. "Before, I would've shyed away from topics such as sexual assault and victim blaming but this time I called-out the disgusting mysogeny (in the track 'Reckoning') and threw shade at the abusers in our music scene (in the track 'Creep'). Before, I might've tried to portray some semblance of decency about my fellow citizenry; this time I lament that goodness and kindness are losing the culture war (in the track 'Panic') and trolling is rewarded over intelligence (in the track 'Burn Me')." Oblivion is the most ambitious DIVIDED HEAVEN album yet, as Berman states, "I landed at the geographic musical midpoint of my heart: directly between (Carole King's) Tapestry and (Motley Crue's) Shout At The Devil. Odd as that may sound, that helped guide my attempt to combine sensibility with attitude and helped me shift from Americana to overdrive rock."
Over two years, Berman enlisted four different producers to create a diverse vibe across the 10 tracks on Oblivion. Once again working with longtime producer Charlie Stavish (who most notably worked with Jenny Lewis, Vacation Manor and produced the lead single from Oblivion, the politically scorching 'They Poisoned Our Fathers' which features the incomparable Lydia Loveless), Berman also worked with UK-Singer-Songwriter juggernaut Frank Turner, whose production brought a whole new power to a DIVIDED HEAVEN album. In addition, Berman recorded three tracks for the album in Antwerp, Belgium with producer Tim van Doorn (longtime producer for Joe McMahon and Tim Vantol) who brought out the most graceful songs of Berman's career, including the second single 'Baby in the Band'. Lastly, pop producer Mike Biancaniello (who has notably worked with 5 Seconds of Summer) highlighted a new vivid hue to Berman's songwriting to round out the album.
Either solo or with the band in tow, DIVIDED HEAVEN are equally proper on festival stages at Punk Rock Bowling, SXSW and the FEST as they are in the seated listening-rooms of Hotel Cafe and the Ramones Museum and has shared stages with Dave Hause, Matze Rossi, Anti-Flag, Ryoko, Spanish Love Songs, Slingshot Dakota, Jared Hart, The Flatliners, Sundowner, Tiny Stills and many more.
Now a new father and having recently relocated from Los Angeles to Lancaster, Pennsylvania, Berman welcomes the challenge of pursuing his singer-songwriter path with vigor and optimism. "Oblivion is the fourth DIVIDED HEAVEN record. The fourth record for a project with a kinda shitty name that wasn't meant to have one complete album and yet here we are, working with A-F Records and Gunner Records!" says Berman. "Oblivion opens up my world and is a new starting point as a songwriter, as a musician and as a troubadour. I am excited to share this record and see where it takes us. Let's get it!"
Guests: Creep features Frank Turner Wife Jess Guise